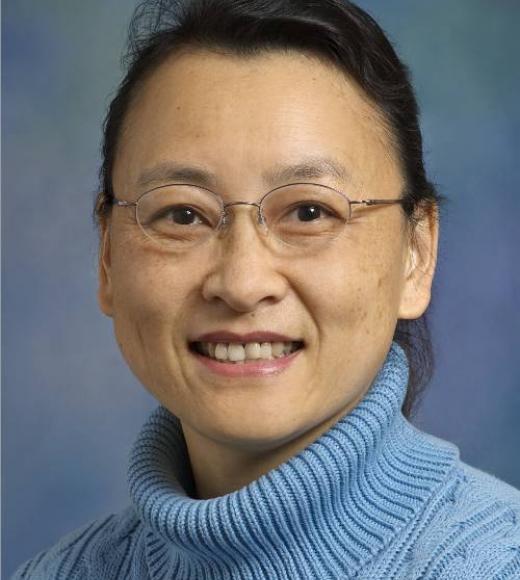 Position Title

Research Geneticist, USDA ARS WHNRC

Adjunct Professor
Bio
Education
M.D., Shanghai Medical University, PR China
Ph.D., Department of Microbiology, University of Iowa
Research Interests
Dr. Huang has primarily focused on mammalian zinc transporter proteins and their roles in maintaining body zinc homeostasis, regulating body adiposity, and modifying insulin expression. She is also interested in the molecular mechanisms by which zinc and lunasin reduce the risk of prostate cancer. Her work involves cell lines and mice to investigate the roles of zinc in reduction of prostate cancer risk and in regulation of body weight, body fat, and insulin resistance. 
Selected Publications
Hunag, L, Drake VJ, Ho E. Zinc. Adv. Nutr. 6:224-226, 2015. [PubMed]
Huang L. Zinc and its transporters, pancreatic b-cells, and insulin metabolism. Vitamins and Homones: The Pancreatic Beta Cell,  Gerald Litwack (ed), Elsevier Inc., 95: 365-390, 2014. [PubMed]
Tepaamorndech S, Kirschke CP, Huang L. Linking cellular zinc status to body weight and fat mass: mapping quantitative trait loci in Znt7 knockout mice. Mamm. Genome, 25:335-353, 2014. [PubMed]
Huang L, Tepaamorndech S. The SLC30 family of zinc transporters – A review of current understanding of their biological and pathophysiological roles. J. Mol. Aspects Med. 34:548-560, 2013. [PubMed]
Parelman MA, Storms DH, Kirschke CP, Huang L, Zunino, SJ. Dietary strawberry powder reduces blood glucose concentrations in obese and lean C57BL/6 mice, and selectively lowers plasma C-reactive protein in lean mice. Br. J. Nutr. 108:1789-1799, 2012. [PubMed]
Huang L, Kirschke CP, Lay YE, Levy LB, Lamirande DE, Zhang PH. Znt7-null mice are more susceptible to diet-induced glucose intolerance and insulin resistance. J. Biol. Chem. 287:33883-33896, 2012. [PubMed]
Tepaamorndech S, Huang L, Kirschke CP. A null-mutation in the Znt7 gene accelerated prostate tumor formation in a transgenic adeno-carcinoma mouse prostate model. Cancer Lett. 308:33-42, 2011. [PubMed]
Galvez AF, Huang L, Magbanua MJ, Dawson K, Rodriguez RL. Lunasin peptide upregulates thrombospondin 1 (THBS1) gene expression in non-tumorigenic prostate epithelial cells. Nutrition and Cancer, 63:623-36, 2010.
Huang, L, Yan M, Kirschke CP. Over-expression of ZnT7 increases insulin synthesis and secretion in pancreatic -cells by promoting insulin gene transcription. Exp. Cell Res. 316:2630-43, 2010. [PubMed]
Kirschke CP, Huang L. Expression of ZNT (SLC30) family members in the epithelium of the mouse prostate during sexual maturation. J. Mol. Histol. 39:359-370, 2008. [PubMed]
Huang L, Yu YY, Kirschke CP, Gertz ER, Lloyd KK. Znt7 (Slc30a7)-deficient mice display reduced body zinc status and body fat accumulation. J. Biol. Chem. 282:37053-37063,2007. [PubMed]
Huang L, Kirschke CP. A di-leucine sorting signal in ZIP1 (SLC39A1) mediates endocytosis of the protein. FEBS J. 274:3986-3997, 2007. [PubMed]
Yu YY, Kirschke CP, Huang L.  Immunohistochemical analysis of ZnT1, 4, 5, 6, and 7 in the mouse gastrointestinal tract. J. Histochem. Cytochem. 55:223-234, 2007. [PubMed]
Magbanua MM, Dawson K, Huang L, Malyj W, Gregg J, Galvez A, Rodriguez RL. Nutrient-Gene Interactions Involving Soy Peptide and Chemopreventive Genes in Prostate Epithelial Cells. In:  "Nutritional Genomics: Discovering the Path to Personalized Nutrition", A Kaput and Rodriguez  eds, John Wiley & Sons, Inc., 2006.
Huang L, Kirschke CP, Zhang Y. Decreased intracellular zinc in human tumorigenic prostate epithelial cells: a possible role in prostate cancer progression. Cancer Cell Int. 31;6:10, 2006. [PubMed]
Huang L, Kirschke CP, Zhang Y, Yu YY. The ZIP7 gene (Slc39a7) encodes a zinc transporter involved in zinc homeostasis of the Golgi apparatus. J. Biol Chem. 280:15456-15463, 2005. [PubMed]
Andree KB, Kim J, Kirschke CP, Gregg JP, Paik H, Joung H, Woodhouse L, King JC,  Huang L. Investigation of lymphocyte gene expression for use as biomarkers for zinc status in humans. J Nutr. 134:1716-1723, 2004. [PubMed]
Palmiter RD, Huang L. Efflux and compartmentalization of zinc by members of the SLC30 family of solute carriers. Pflugers Arch. European J. Physiology. 447:744-751, 2004. [PubMed]
Kirschke CP, Huang L. ZnT7, a novel mammalian zinc transporter, accumulates zinc in the Golgi apparatus. J Biol Chem. 278:4096-102,2003. [PubMed]
Huang L, Kirschke CP, Gitschier J. Functional characterization of a novel mammalian zinc transporter, ZnT6. J. Biol. Chem. 277:26389-95,2002. [PubMed]
Huang L, Kuo YM, Gitschier J. The pallid gene encodes a novel, syntaxin 13-interacting protein involved in platelet storage pool deficiency. Nat. Genet. 23:329-332,1999. [PubMed]
Huang L, Gitschier J. A novel gene involved in zinc transport is deficient in the lethal milk mouse.  Nat. Genet. 17:292-297, 1997. [PubMed]