A Vegan Tasting Adventure
Originally posted to UC Davis Magazine on April 21, 2023.
My first week as an intern at UC Davis Magazine took me on a food-tasting adventure on campus. As a nutrition major, I was excited to dissect the dietary complexities of creating a plant-based meal, and as a college student, I was ecstatic about a free meal.
The Yolo County Vegan Chef Challenge, running through April 30, involves participating restaurants and bakeries from Winters, Sacramento and Davis. Each establishment is creating its own vegan entree, appetizer or dessert for the challenge, and diners can comment and vote for a dish on the competition's website.
The competition has been done in locations around the country, with the goal of motivating people to try more plant-based, cruelty-free and environmentally friendly dishes. On campus, the three dishes entered into the competition are the Oyster Po' Boy, The Chopper and the Oyster Mushroom Carnitas Tacos. These entrees are served at The Gunrock, Spokes Grill and Scrubs Cafe respectively.
I was able to taste test all three of the vegan entrees from The Gunrock, Spokes Grill and Scrubs Cafe in UC Davis. When I sat down to eat the Oyster Po' Boy at the Gunrock dining area last week, I fully expected a basic black bean burger. I was met with a delicious, crunchy, salty and oily oyster-esque mushroom filling with a peppery sauce. The po' boy, created by Executive Chef Janos Levin, was made to turn a traditionally non-vegan meal into a completely animal-free product.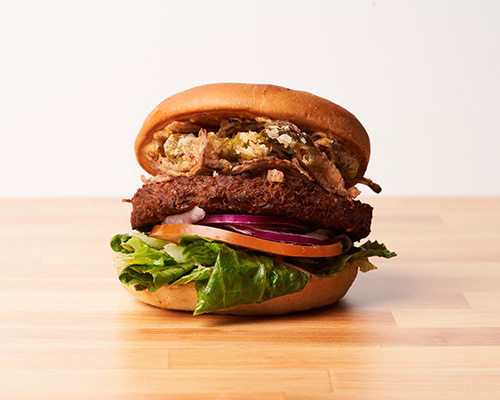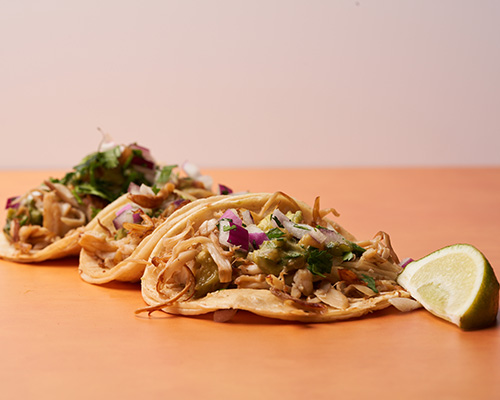 Levin has been working around UC Davis food establishments for six years, and I got the chance to sit down and eat with him. He said his goal was to reach a larger audience, people who wouldn't typically order a plant-based meal. The oyster mushrooms, artfully marinated with a plant-based blend of vegan buttermilk, mayo and a variety of spices, were sandwiched with tomatoes and lettuce between two vegan bread buns. There was a lot of creativity in ingredient choice, and the dish was very different from the lab-grown and over-processed varieties of meat alternatives usually offered in supermarkets. Everything from the marinade to the remoulade sauce on the buns was carefully altered to bypass traditional animal products. I found out that even white sugar, which is found in most white bread, is technically not vegan, due to the animal bone used in its processing. The po' boy exceeded my expectations in its accuracy and closeness to real oysters, and the flavors were a delight to experience.
The Chopper, a jackfruit burger served in Spokes Grill, was a different experience altogether. The patty, which had masala-inspired flavors, tasted nothing like a meat patty. Levin explained that the goal was not to replicate meat but to create another dish entirely. The burger was unique in its spices and ingredients and incorporated a striking flavor in the patty. I was expecting some jackfruit texture, but the patty was more mashed potato than anything. It was topped with a crunchy mix of fried jalapenos and onions, adding a nice texture contrast to the soft patty. The burger opened my eyes to a new use for jackfruit, and I think vegan dishes that don't attempt meat imitation absolutely need more representation on menus.
For the third and final entree, the Oyster Mushroom Carnitas Tacos, I biked to the outskirts of campus to access the remote Scrubs Cafe. This time, I was able to talk to Sous Chef Michael Chiu, another important contributor to the vegan dishes. Chiu said that the king oyster carnitas, a slight variation of the species of oyster mushrooms used in the po' boy, was aimed to replicate the texture and look of pulled pork, but not so much the taste. The goal, like for the po' boy, was to reach a larger audience by altering a traditionally meat dish. The mushroom carnitas had a chewy feel and a slight char that contributed to its textual complexity. They were topped with onions and cilantro and placed on corn tortillas with a bright, delicious avocado "crema" infused with charred scallions and jalapeno. The tacos were light and refreshing, and I washed the delectable dish down with a complementary Thai tea boba, a bittersweet farewell to my culinary expedition.
I thought the tacos and po' boy dishes were both strong competitors, but the po' boy was a clear winner in creativity and depth of flavor. I quickly sent in my supporting vote after the experience, and I hope that these dishes become popular enough to earn a permanent place on the menu. Overall, this was an enlightening experience in the nuances of vegan cuisine and a spectacular time to be a student reporter.