Rachel Scherr receives American Society for Nutrition's first ever NE&BS RIS Early Career Award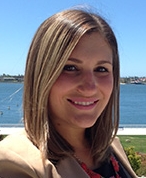 The executive committee of the American Society for Nutrition's (ASN) Nutrition Education & Behavior Science Research Interest Section (NE&BS RIS) has selected Dr. Rachel Scherr to receive the RIS' first ever Early Career  Award. The award will be presented during the NE&BS RIS business meeting at this year's Experimental Biology conference in Chicago.
Dr. Scherr is an Assistant Researcher in the Department of Nutrition as well as an Associate Director of the UC Davis Center for Nurition in Schools.  Her research interests are mainly focused on nutrition education and promotion in school-aged children. Research efforts include the implementation of a multi-component, school-based intervention entitled the Shaping Healthy Choices Program. Additionally, Dr. Scherr is focused on the usage of sub-clinical and novel biomarkers in nutrition education to assess the effectiveness of these multi-component interventions.