Susana L. Matias, Ph.D.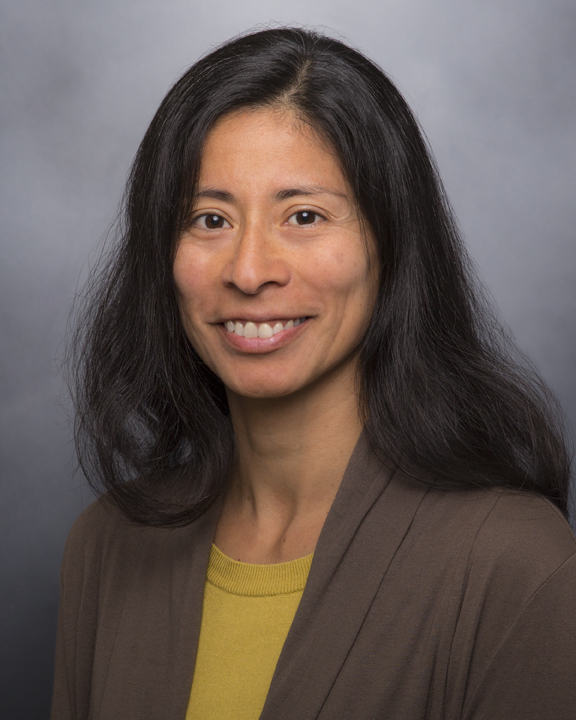 Position
Assistant Project Scientist
Education
B.S., Psychology, Pontificia Universidad Católica del Perú
Ph.D., Epidemiology, University of California, Davis (emphasis in International Nutrition)
Research Interests
Dr. Matias's research is focused on maternal and child health and nutrition. Her research interests involve breastfeeding, immigrant/Latino health and evaluation of nutrition interventions to prevent malnutrition.
Selected Publications
Matias SL, Mridha MK, Tofail F, Arnold CD, Khan MS, Siddiqui Z, Ullah MB, Dewey KG. Home fortification during the first 1000 d improves child development in Bangladesh: a cluster-randomized effectiveness trial. Am J Clin Nutr. 2017 Mar 8. pii: ajcn150318. [PubMed] 
Dewey KG, Mridha MK, Matias SL, Arnold CD, Cummins JR, Khan MS, Maalouf-Manasseh Z, Siddiqui Z, Ullah MB, Vosti SA. Lipid-based nutrient supplementation in the first 1000 d improves child growth in Bangladesh: a cluster-randomized effectiveness trial. Am J Clin Nutr. 2017 Mar 8. pii: ajcn147942. [PubMed]
Harding KL, Matias SL, Mridha MK, Moniruzzaman M, Vosti SA, Hussain S, Dewey KG, Stewart CP. Adherence to recommendations on lipid-based nutrient supplement and iron and folic acid tablet consumption among pregnant and lactating women participating in a community health programme in northwest Bangladesh. Matern Child Nutr. 2017 Jan:13(1).  [PubMed]
Matias SL, Mridha MK, Paul RR, Hussain S, Vosti SA, Arnold CD, Dewey KG. Prenatal Lipid-Based Nutrient Supplements Affect Maternal Anthropometric Indicators Only in Certain Subgroups of Rural Bangladeshi Women. J Nutr. 2016 Jul 20. pii: jn232181. [PubMed]
Kathryn G Dewey, Malay K Mridha, Susana L Matias, Joseph R Cummins, Janet M Peerson, Charles D Arnold, Rebecca T Young, Stephen A Vosti. Effectiveness of a Lipid-Based Nutrient Supplement (LNS) Intervention on Pregnancy and Birth Outcomes in Bangladesh. Washington, DC: FHI 360/Food and Nutrition Technical Assistance III Project (FANTA), May 2016. [Report]
Kassandra Harding, Susana Matias, Md. Moniruzzaman, Malay Mridha, Stephen Vosti, Kathryn Dewey. Rang-Din Nutrition Study: Assessment of Adherence to Lipid-Based Nutrient Supplements and Micronutrient Powders among Children 6–23 Months in Bangladesh. Washington, DC: FHI 360/Food and Nutrition Technical Assistance III Project (FANTA), March 2016. [Report]
Mridha MK, Matias SL, Chaparro CM, Paul RR, Hussain S, Vosti SA, Harding KL, Cummins JR, Day LT, Saha SL, Peerson JM, Dewey KG. Lipid-based nutrient supplements for pregnant women reduce newborn stunting in a cluster-randomized controlled effectiveness trial in Bangladesh. Am J Clin Nutr. 2015 Nov 25. pii: ajcn111336.   [PubMed]
Harding KL, Matias SL, Moniruzzaman Md, StewartCP, Mridha MK, Vosti SA, Dewey KG. Rang-Din Nutrition Study: Assessment of Participant Adherence to Lipid-Based Nutrient and Iron-Folic Acid Supplements among Pregnant and Lactating Women in the Context of a Study on the Effectiveness of Supplements in Bangladesh. Washington, DC: FHI 360/FANTA, September 2014. [Report]
Matias SL, Dewey KG, Quesenberry CP Jr, Gunderson EP. Maternal prepregnancy obesity and insulin treatment during pregnancy are independently associated with delayed lactogenesis in women with recent gestational diabetes mellitus. Am J Clin Nutr. 2014 Jan;99(1):115-21. [PubMed]
SL Matias, MT Stoecklin-Marois, DJ Tancredi, MB Schenker. Adherence to Dietary Recommendations Is Associated with Acculturation among Latino Farm Workers. Journal of Nutrition 2013;143(9):1451-8. [PubMed]
Susana L. Matias, Laurie A. Nommsen-Rivers, Kathryn G. Dewey. Determinants of Exclusive Breastfeeding in a Cohort of Primiparous Peri-urban Peruvian Mothers. Journal of Human Lactation 2012; 28 (1): 45-54. [PubMed]
Malay K. Mridha, Camila M. Chaparro, Susana L. Matias, Sohrab Hussain, Shirajum Munira, Stacy Saha, Louise T. Day, Kathryn G. Dewey. Acceptability of Lipid-Based Nutrient Supplements and Micronutrient Powders among Pregnant and Lactating Women and Infants and Young Children in Bangladesh and Their Perceptions about Malnutrition and Nutrient Supplements. Washington, D.C.: FHI 360/FANTA-2 Bridge, February 2012. [Report]
Erica P Gunderson, Susana L Matias, Shanta R Hurston, Kathryn G Dewey, Assiamira Ferrara, Charles P Quesenberry, Joan C Lo, Barbara Sternfeld and Joseph V Selby. Study of Women, Infant Feeding, and Type 2 diabetes mellitus after GDM pregnancy (SWIFT), a prospective cohort study: methodology and design. BMC Public Health 2011; 11:952. [PubMed]
Susana L. Matias, Camila M. Chaparro, Ana B. Perez-Exposito, Janet M. Peerson, Kathryn G. Dewey. Acceptability of a Lipid-based Nutrient Supplement among Guatemalan Infants and Young Children. Washington, D.C.: FHI 360/FANTA-2 Bridge, August 2011. [Report]
Susana L. Matias, Laurie A. Nommsen-Rivers, Hilary Creed-Kanashiro, Kathryn G. Dewey. Risk factors for early lactation problems among Peruvian primiparous mothers. Maternal and Child Nutrition 2010; 6:120-133. [PubMed]