Sridevi Krishnan, Ph.D.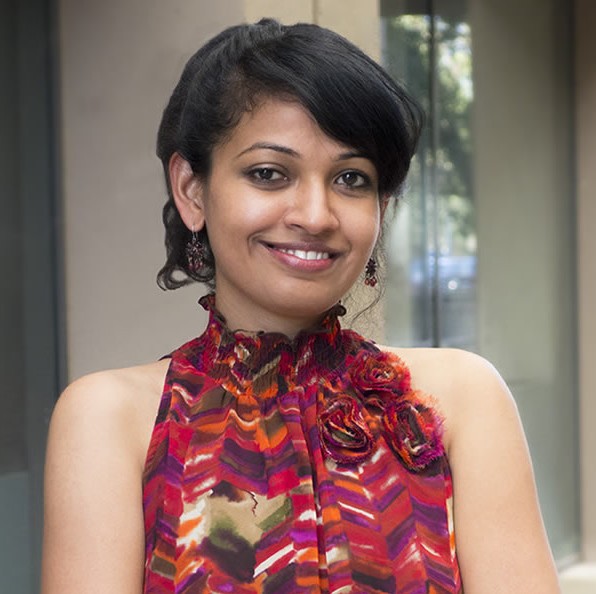 Position
Assistant Project Scientist
Education
Ph.D., Nutritional Biology, University of California, Davis
M.Sc. Food Science & Nutrition, Madras University
Research Interests
My current research focuses on combating (prevention and management) type 2 diabetes, cardiovascular disease, and obesity in women by exploring dietary, exercise and lifestyle habits, especially focused on personalizing changes to optimize health solutions. In addition, I am also interested in phenotypic differences in the manifestation of disease pathogenesis, especially in identifying them using -omic (metabolomic, proteomic, genomic, glycomic and microbiome) tools. While my earlier work has been in breast cancer research using genetic and molecular biology tools, my recent work has primarily used dietary, exercise and endocrine challenge/intervention responses to characterize cardio-metabolic disease onset and prevention. Further, I believe in using statistical modeling to evaluate the inter-individual variability in response to these challenges to shed light on how to personalize solutions. Current projects include understanding the role of menstrual cycle hormones and endocannabinoids on appetite and craving, using artificial intelligence and neural network modeling to achieve nutritional phenotyping, and understanding the impact of dietary patterns on cardiometabolic health.
Selected Publications
Sridevi Krishnan, Michiko Shimoda, Romina Sacchi, John K. Muchena, Guillaume Luxardi, George A. Kaysen, Atul N. Parikh, Viviane N Ngassam, Kirsten Johansen, Glenn Chertow, Barbara Grimes, Jennifer T. Smilowitz, Emanual Maverakis, Carlito B. Lebrilla, Angela M. Zivkovic. (2017) HDL Glycoprotein Composition and Site-Specific Glycosylation Differentiates Between Clinical Groups and Affects IL-6 Secretion in Lipopolysaccharide-Stimulated Monocytes. Scientific Reports Mar 13;7:43728 [PubMed]
Sridevi Krishnan, Lyn Steffen, Chad M Paton, Jamie A Cooper, (2017) Impact of dietary fat composition on prediabetes – a 12-year follow up study. Public Health Nutrition (Jan 31:1-10) [PubMed]
Keely H Hawkins, Sridevi Krishnan and Jamie A Cooper. (2017) Running Performance with Nutritive and Non-Nutritive Sweetened Mouth Rinses. International Journal of Sports Physiology and Performance, Jan 17: 1-23 [PubMed]
Jasmine C. C. Davis, Zachery T. Lewis, Sridevi Krishnan, Robin M. Bernstein, Sophie E. Moore, Andrew M. Prentice, David A. Mills, Carlito B. Lebrilla, and Angela M. Zivkovic. (2017) Growth and Morbidity of Gambian Infants are Influenced by Maternal Milk Oligosaccharides and Infant Gut Microbiota. Scientific Reports Jan 12;7:40466. [PubMed]
Sridevi Krishnan, Rebecca Tryon, William F. Horn, Lucas C Welch, Nancy Keim. (2016) Estradiol, SHBG and leptin interplay with food craving and intake across the menstrual cycle. Physiol Behav. Oct 15;165:304-12. [PubMed]
Sridevi Krishnan, Jincui Huang, Andres Guerrero, Carlito B Lebrilla, Lars Bergland, Anuurad Erdembileg and Angela M Zivkovic (2015) HDL Proteome and Glycome Profiling: Development of Novel Markers for Coronary Artery Disease Risk. Journal of Proteomics Research, 14 (12), pp 5109–5118. [Pubmed]
Jada Stevenson, Sridevi Krishnan, Alexis Stamatikos, Melissa Inigo, Joaquin Gonzales and Jamie A Cooper (2015) Echinacea-Based Dietary Supplement Does Not Increase Maximal Aerobic Capacity in Endurance-Trained Men and Women; Journal of Dietary Supplements, Aug 28:324-38. [Pubmed]
Sridevi Krishnan, Theresa Tokar, Michelle Harold, Lara Ringos, Kent Griffin, Mallory Boylan, Christina. Esperat, Du Feng, and Jamie A Cooper (2015) A Zumba ® dance intervention promotes weight loss, body fat loss, and improves aerobic capacity in overweight/obese or Type 2 diabetic women. American Journal of Health behavior, 39(1):109-120. [Pubmed]
Sridevi Krishnan and Jamie A Cooper (2014) Effect of dietary fatty acid composition on substrate utilization and body weight maintenance in humans. European Journal of Nutrition,53(3): 691-710. [Pubmed]
Sridevi Krishnan, Mary Gustafson, Caitlin Campbell, Elaine Souza, Nilesh W Gaikwad, Nancy L Keim (2014) Association between circulating endogenous androgens and insulin sensitivity changes with exercise training in midlife women. Menopause: The Journal of the North American Menopause Society; Vol 21, No 9. [PubMed]
Jada L Stevenson, Sridevi Krishnan, Megan A Stoner, Zeynep Goktas, Jamie A Cooper (2013) Effects of Exercise During the Holiday Season on Changes in Body Weight and Health. (Eur J Clin Nutr.; 67(9):944-9. [PubMed]
Sridevi Krishnan, John W. Newman, Tara A. Hembrooke, and Nancy L Keim (2012) Variation in metabolic responses to meal challenges differing in glycemic index in healthy women: Is it meaningful? Nutrition and Metabolism. 9:26. [PubMed]