Sridevi Krishnan, Ph.D.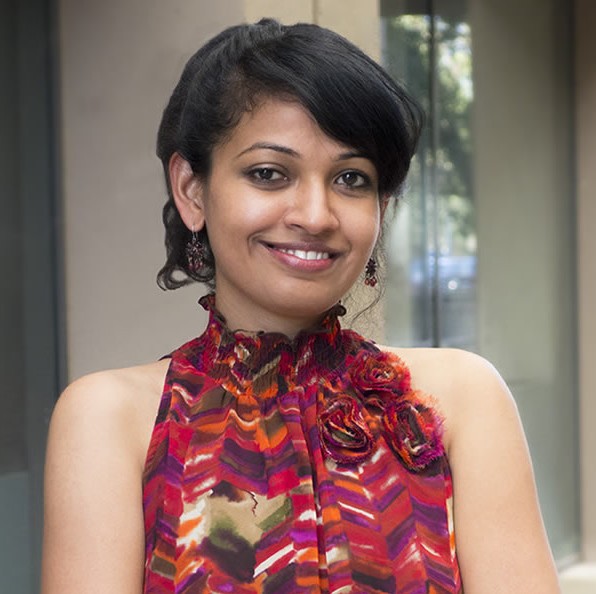 Position
Assistant Project Scientist
Education
Ph.D., Nutritional Biology, University of California, Davis
M.Sc. Food Science & Nutrition, Madras University
Research Interests
Dr. Krishnan's research focuses on characterizing human variability in macronutrient metabolism with specific impacts on energy intake and expenditure, body weight maintenance, obesity, metabolic syndrome and type 2 diabetes. She has focused on women's health, identifying dietary, physical activity and sex steroid hormone influences on macronutrient metabolism and maintenance of body weight. Current projects include understanding the role of menstrual cycle hormones on appetite, and using artificial intelligence to achieve nutritional phenotyping, and understanding the impact of dietary patterns on cardiometabolic health.
Selected Publications
Sridevi Krishnan, Jincui Huang, Andres Guerrero, Carlito B Lebrilla, Lars Bergland, Anuurad Erdembileg and Angela M Zivkovic (2015) HDL Proteome and Glycome Profiling: Development of Novel Markers for Coronary Artery Disease Risk. Journal of Proteomics Research, 14 (12), pp 5109–5118. [Pubmed]
Jada Stevenson, Sridevi Krishnan, Alexis Stamatikos, Melissa Inigo, Joaquin Gonzales and Jamie A Cooper (2015) Echinacea-Based Dietary Supplement Does Not Increase Maximal Aerobic Capacity in Endurance-Trained Men and Women; Journal of Dietary Supplements, Aug 28:324-38. [Pubmed]
Sridevi Krishnan, Theresa Tokar, Michelle Harold, Lara Ringos, Kent Griffin, Mallory Boylan, Christina. Esperat, Du Feng, and Jamie A Cooper (2015) A Zumba ® dance intervention promotes weight loss, body fat loss, and improves aerobic capacity in overweight/obese or Type 2 diabetic women. American Journal of Health behavior, 39(1):109-120. [Pubmed]
Sridevi Krishnan and Jamie A Cooper (2014) Effect of dietary fatty acid composition on substrate utilization and body weight maintenance in humans. European Journal of Nutrition,53(3): 691-710. [Pubmed]
Sridevi Krishnan, Mary Gustafson, Caitlin Campbell, Elaine Souza, Nilesh W Gaikwad, Nancy L Keim (2014) Association between circulating endogenous androgens and insulin sensitivity changes with exercise training in midlife women. Menopause: The Journal of the North American Menopause Society; Vol 21, No 9. [PubMed]
Jada L Stevenson, Sridevi Krishnan, Megan A Stoner, Zeynep Goktas, Jamie A Cooper (2013) Effects of Exercise During the Holiday Season on Changes in Body Weight and Health. (Eur J Clin Nutr.; 67(9):944-9. [PubMed]
Sridevi Krishnan, John W. Newman, Tara A. Hembrooke, and Nancy L Keim (2012) Variation in metabolic responses to meal challenges differing in glycemic index in healthy women: Is it meaningful? Nutrition and Metabolism. 9:26. [PubMed]